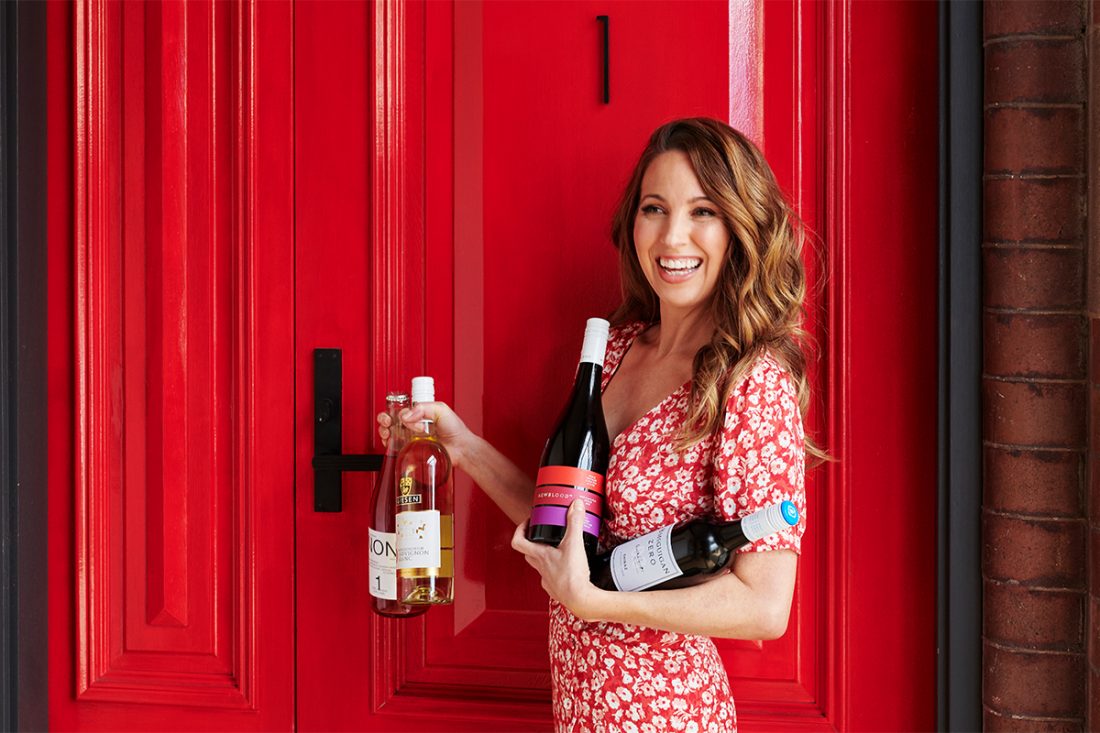 Why Irene Falcone swapped lip balms for alcohol-free wines
Every avid consumer knows how frustrating and disheartening it can be when a product is out of reach and you are forced to find a local substitute that doesn't quite meet all of your requirements.
Whether it's a palm oil-free shampoo you stumble upon on your travels or a five-star eczema lotion made and sold overseas, there's a woman whose the startup journey began by asking these questions – ultimately taking matters into your own hands.
Humble beginnings
It was while Irene Falcone was working in the glamorous world of advertising at Universal Pictures that her path as an entrepreneur came to life. At the time, she was heavily involved in releasing movies and launching the nation's first Facebook ads while undertaking once-a-month volunteer work with the National Toxics Network.
Through this experience, Falcone became aware of the alarming number of toxins she was exposed to every day as an urban businesswoman using a range of products.
"Originally, Nourished Life was really just a blog and it was called Living Toxin Free in the City," she explains. "The blog has really taken off. There were a lot of women who were interested in that, in how to reduce the toxins that we put into the environment and into our bodies.
The problem was that the knowledge Falcone was sharing with the public highlighted a gap in the market. If lip balms made from the by-product of gasoline production – petrolatum – aren't the healthiest substance to put on your lips, then where were the alternatives?
As interest grew, Falcone decided it was time to take the next step: importing and selling products, starting with Hurraw! lip balms from a remote country town in the United States.
"I imported them for A$1 [US$0.70] and I sold them for A$5 [US$3.50] or AU$6 [US$4.20] each at the same time," she recalls. "I had them under my desk at Universal Pictures and was just dabbing them on my lunch break, sending them to people on my blog who wanted to buy them."
"I sell alcohol-free products as a wellness product. I think the industry is wrong to try to sell non-alcoholic wine as an alcoholic product. – Irene Falcone
At this point, it was clear that Falcone should either quit her job or her newfound passion – she chose the former and realized she was a born entrepreneur.
"I sold my house, sold my car, and bought more lip balms and natural hairspray, and left," she says.
Keen to put healthier, organic alternatives into the hands of Australian consumers, Nourished Life has become the go-to destination for wellness enthusiasts.
"What Nourished Life did was figure out what was natural and what wasn't. I really worked hard for you, so you didn't have to have a science degree to understand etiquette," Falcone claims.
After four years in business, the self-funded mumpreneur has managed to turn an informative blog into a 20 million Australian dollars (14 million US dollars) platform with an impressive offering of clean products under one roof.
Instead of investors, she relied on the support of local moms, who worked during school hours in a warehouse-like operation.
"I was able to adapt it very quickly because I was really able to fill a gap in what people needed," she explains.
"But at the same time, social media was so easy that I only had to spend a dollar and I made 20 Australian dollars [US$14] back, so it was very easy to earn 20 million Australian dollars [US$14 million] once I realized that. Falcone did the math and came to the conclusion that she needed to invest A$5 million (US$3.5 million) and that would turn into A$20 million (US$14 million).
Back to business life
Just as she had left behind the comfort and security of her full-time role in advertising, Falcone made another life-changing decision: entrusting Nourished Life to BWX.
However, with Falcone now having 20 million Australian dollars (14 million US dollars) in the bank, she felt like a fish out of water in her role as chief executive of the company she had built and managed. herself.
"It was really interesting because I've never been so sad in my life. And you'd think having all that money would make you happy, right? But it didn't," she admits.
As Falcone attended board meetings, the entrepreneur in her struggled to acclimatize. "It didn't last very long because I am first and foremost an entrepreneur. I wanted to be on my lunch break under my desk licking envelopes and answering emails," she says.
She felt she needed to be back in the water, swimming in the uncertain waters to bring another disruptive venture to life – this time with a lot more money to get it off the ground.
"I could have bought a yacht and sailed the French Riviera with all the money I made selling Nourished Life. But I decided to take it all and immerse myself in the struggle and stress of entrepreneurship," Falcone recalls.
A new disruptive company
While turning to wine and gin for moral support during this time wasn't the most nourishing decision, it sparked a game-changing idea.
One day, after walking into a bottle store, Falcone asked for a soft drink and was met with a reaction similar to the one she received in 2012 when looking for a natural deodorant at a local Priceline store.
She started wondering if there was a market for people who don't need to go to that bottle shop and feel embarrassed to drink non-alcoholic beer, wine and spirits.
By testing as many soft drinks as possible, Falcone realized that the industry was underdeveloped and that it would also be much more difficult to market and sell a placebo effect to customers.
"Unfortunately, I was only earning 3 Australian dollars [US$2] for every dollar because Facebook has changed and it's three times more expensive," she shares.
Nevertheless in 2020, in the midst of a pandemic, Sans Drinks was born. When Falcone's first customer's order broke in transit, she might have felt frustrated and full of regret, having been used to handling a thousand orders a day at Nourished Life.
Instead, she was happy to be in her business-to-consumer element – navigating customer complaints and solving problems with her Porsche parked in an alley, in keeping with the image of the struggling entrepreneur.
A rebel at heart
Now a seasoned entrepreneur, Falcone's decisions are informed by the unlived experiences, mistakes, and challenges she has encountered with her multi-million dollar empire.
"At Nourished Life, I also wanted to open stores, but I didn't because I was too scared and everyone was saying, 'Bricks and mortar is bad. If I had had my time again, I would never have sold Nourished Life. I would have franchised it," she says.
Rather than open a non-alcoholic bar, Falcone set up shop in a retail store on Sydney's northern beaches, directly opposite Vintage Cellars – a move that turned out to be a blessing in disguise. "I wish it had been at Dan Murphy's across the road, but I took what I could get."
"It helped drive traffic to their store and it helped drive more traffic to my store because what I found, as I set out to be disruptive, was that we became a destination for drinking."
When the couples arrive, the man typically walks into Vintage Cellars while his partner walks into Sans Drinks – women over 30 are Falcone's main demographic.
"If I had had my time again, I would never have sold Nourished Life. I would have franchised it. – Irène Falcone
"I sell alcohol-free products as a wellness product. I think the industry is wrong to try to sell non-alcoholic wine as an alcoholic product," she explains.
Surprisingly, she's not necessarily targeting wellness gurus who are already sipping kombucha every night.
"These people are happy with their kombucha. I target people who like to drink beer, wine and spirits," she says. "People who want to take a break from alcohol, whether it's one night a week or a month at a time."
In the same vein as its former company, Falcone has positioned itself as a leader in the non-alcoholic sector with a dizzying array of products to choose from to suit every need, including its own range, Ms Sans.
Just as she was able to spot the potential of Nourished Life, Falcone admits she has a knack for choosing the right products, which is a valuable skill to have given how the market is booming right now.
"I'm really good at knowing what product will fly and what won't. I also don't do anything without asking my clients," she admits.
Based on customer feedback, soft drinks are set to become more accessible. "I work with a wonderful company called The Franchise Institute. And as we enter a dry July, you will be able to buy a Sans Drinks franchise," Falcone reveals.
The difference, she explains, is that Sans Drinks isn't just another bottle shop trying to win more customers with more options.
Falcone's biggest lessons
Know your customers
Whether it's spending Christmas Day meeting customers or carrying non-alcoholic wines when the same-day delivery service isn't working, Falcone is always in tune with its customers and their needs.
"I spend 99.9% of my time talking to customers, whether in store, via email or on social media, to understand what they are looking for. The biggest mistake a CEO can make is letting customer service do the talking to their customers," she says.
Place more women in leadership positions
Based on her experiences with startups and large corporations, Falcone believes women make great entrepreneurs and business leaders.
"Putting a woman into your organization in a position of authority is probably one of the best things a company can do. Men are very driven by numbers and results, I've found, and women are very attentive to those numbers and results.
Finance yourself if you can
Falcone has never involved investors in any of her ventures and she has no regrets.
"I think an entrepreneur is someone who is self-funded and doesn't have a board of directors to make decisions," she says. "They make their own decisions with their own money and they decide whether or not they're going to sell a house, buy a house, or mortgage their house to finance their business. They don't make executive decisions with other people, they follow their instincts.
Read next: Why the sober industry will be worth US$1.44 trillion by 2025