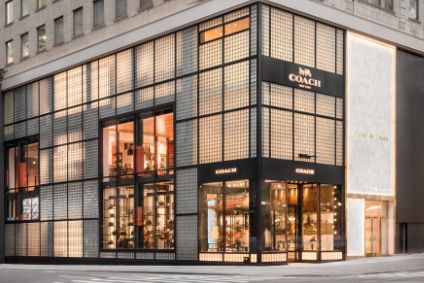 Tapestry sales up in the third quarter
Tapestry, Inc, a New York-based house of accessories and lifestyle brands including Coach, Kate Spade and Stuart Weitzman, reported results for the fiscal third quarter ended April 2:
Third quarter net sales totaled $1.44 billion versus $1.27 billion a year earlier, an increase of 13%.
Sales of Coach, Kate Spade and Stuart Weitzman increased by 11%, 19% and 11% respectively.
Digital revenue up 20% compared to the same quarter last year.
Net income for the quarter was $123 million on a reported basis, compared to $92 million in the same period a year ago.
Gross margin narrowed to 69.9% from 71.6%. As expected, gross margin was negatively impacted by higher transportation costs to maintain product flow to meet consumer demand, which totaled $63 million or 440 basis points.
For fiscal 2022, Tapestry forecasts revenue of approximately $6.7 billion, which represents a strong growth rate over the prior year on a comparable 52-week basis, and would mark a record level of sales for the company.
"Our third quarter results far exceeded expectations thanks to continued strong growth in North America. We increased customer demand at Coach, Kate Spade and Stuart Weitzman, reflecting the momentum of each of our brands, the power of our platform and our team's successful execution of our strategic initiatives," said Joanne Crevoiserat, CEO by Tapestry, Inc.
"Our performance reinforces the significant lead ahead in our portfolio. We leverage our unique blend of magic and logic – hallmarks amplified by an agile, data-rich platform. These differentiators allow us to deliver the continuous innovation needed to build enduring relationships with our customers in the context of a rapidly changing landscape. We remain confident in our long-term growth opportunities and determined in our commitment to enhancing value for our customers and shareholders."
Commenting on the figures, Neil Saunders, Managing Director of GlobalData, notes that Tapestry faced a tough comparison from the prior year to 2021, when sales increased by 18.7%.
"However, the company more than rose to the challenge, posting a 12.9% increase in overall revenue. This means that, on a two-year basis, revenues have increased by an impressive 34%; on a three-year basis, compared to 2019 before the pandemic, revenues increased by 8%. Based on this, Tapestry's momentum and ability to navigate the pandemic is very clear. »
Saunders adds that geographically, the results were driven by North America where revenue was up 22% year over year. Comparatively, sales in China declined in the mid-teens due to the re-emergence of Covid and various lockdowns and restrictions.
"As such, there should be some future momentum from China as the current crisis begins to ease," he adds. "We believe this will be helpful as we move into the quarters to come. North American growth was achieved in a mixed economic context that was a little more difficult than in previous quarters. Rising inflation has eroded disposable income and consumer confidence has deteriorated. Admittedly, the full force of these problems did not manifest until the end of the quarter; however, there is reason to be optimistic that Tapestry is weathering the storm well. While major customers of all Tapestry brands are affected by inflation, their income and financial profile means they can cope with its impacts far better than the average consumer. As such, there's little sign they're moderating – at least for now – on their drinking habits, especially on treats and luxuries for themselves.
"Another factor in Tapestry's favor is that much of the growth is driven by customer acquisition, with the company estimating that it added 1.4 million buyers over the past year. This is largely due to better use of social media and digital channels, with data being used to understand how to target messages to particular groups of consumers. We estimate that around half of new customers are under 40, and a good portion are Gen Z. Overall, this dynamic is a useful hedge against inflation, both because younger Buyers are generally less affected by large price increases and because any future reduction in volumes from core customers may be offset by spending from new customers.
"Coach's revenue increased by 11.3% and is up an impressive 11% from the third quarter of 2019. In our view, Coach's product line is strong, with a good balance between iconic designs and new styles helping to drive conversion. There has also been a noticeable decline in promotions and discounts, likely due to better inventory planning and a larger assortment. Men's products remain less present in the sales mix, but the ranges have improved and are now contributing more significantly to growth.
"At Kate Spade, revenues were up 19.5% and 7% from 2019. Here, we are delighted with Kate Spade's transformation and believe the brand is now back on track after several years of reinvention. The style is now more distinct and customers are offered a more consistent product selection across apparel and accessories. This helps reactivate previous shoppers who had fallen in love with the brand and attract new customers.
"Stuart Weitzman continues to lag behind and while sales are up 10.8%, they are down 25% from 2019. Rebuilding activity is in place here, particularly through sales channels in big, but there's still work to be done to reclaim the brand. on track. Fortunately, Tapestry has some breathing room to execute on this, as its other brands deliver solidly.
Tapestry recently partnered with the World Wide Fund for Nature (WWF), through a $3 million philanthropic grant from its Tapestry Foundation, to develop an innovative system to improve traceability across the leather value chain in Brazil. .