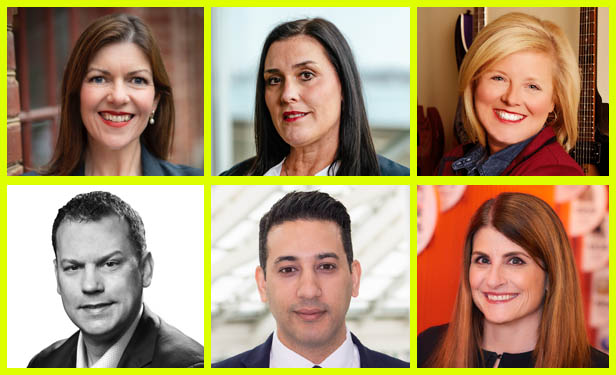 People News: Huntington Place, The Toy Association, Freeman and more appoint new management and welcome staff
People News: Huntington Place, The Toy Association, Freeman and more appoint new management and welcome staff

2022 has started with a bang as event-related organizations continue their hiring and promotion spree, filling positions and recognizing top performers with higher titles. Looked!
Huntington Square
Becky Bixby was named deputy general manager of Detroit's Huntington Square (formerly TCF Center). Certified in Exhibition Management (CEM) with 29 years of event experience leading customer service training teams and implementing new technologies, she will be responsible for all day-to-day operational aspects. of the site, including the satisfaction of customer needs.
Bixby will take a key role in helping the site achieve LEED Platinum certification and in all cross-departmental sustainability initiatives; assess all emergency response plans and establish safety and security measures; endeavor to resolve any client union or staffing issues; and ensuring that all operational departments are on track with their budgets and financial targets for the year.
Previously, Bixby served as Senior Director of Client Services for Informa Markets, where she oversaw 20 trade shows and over 20 digital events representing over $150 million in revenue. Prior to Informa, she served as Vice President of Exhibitor Services for Freeman.
The toy association
The toy association promoted a 20-year veteran of the youth toy and entertainment industry Adrienne Appel to the Executive Vice President of Marketing Communications. As a member of the association's leadership team, Appell is responsible for developing, implementing and overseeing the organization's communications strategies, key messages and brand integrity programs. organization.
After joining the communications department of the Toy Association in 2004, Appell most recently served as senior vice president of marketing communications, leading the security, defense and toy trends communications programs of the organization while maintaining close contact with toy companies to keep up to date with new, upcoming and latest releases. -edge in toys and games.
Prior to joining The Toy Association, Appell worked in the corporate communications division of Scholastic, Inc., beginning his career at global public relations agency Weber Shandwick.
Free man
Free man tapped Alan Cave as its new Chief Financial Officer, responsible for leading its finance organization focused on accounting, financial planning, tax, treasury and business analysis. He brings a strong background in financial planning and leadership to his new role.
Prior to joining Freeman, Grottle served as CFO of full-service food supply chain provider National DCP (NDCP), where he led a team of nearly 100 people focused on finance, inventory control and IT, and oversaw the logistics of 9,500 stores, a network of nine distribution centers and a fleet of 500 trucks.
International destinations
Jane Cunningham joined International destinations as Director of European Engagement, starting January 24. Residing in Stockholm, Sweden, she will be responsible for overseeing and developing a long-term engagement strategy for European destination organizations.
Cunningham has extensive global experience in the meetings and events industry, including 20 years of experience in hotels, convention center, destination marketing organization and professional conference organization. Most recently, she served as Director of Community Engagement at BestCities Global Alliance.
Nashville Convention and Visitors Society
As part of its recent management restructuring, the Nashville Convention and Visitors Society (NCVC) made several high profile promotions and added a new marketing manager to their team.
Deana Ivey was elevated to the position of president of the organization, with Butch Spyridon retaining the title of CEO. Ivey, who has been with the organization since 1997, previously served as executive vice president and chief marketing officer, while Spyridon has held the dual titles of president and chief executive since 1991.
Twenty-year CVB marketing veteran Scott Schult assumed Ivey's former role of CMO. He comes to NCVC after spending 12 years as Executive Vice President of Marketing for the Myrtle Beach Area Chamber of Commerce and nine years at the St. Petersburg/Clearwater Area Convention and Visitors Bureau.
In addition, four additional people in management positions were promoted, including Andrea Arnold, elevated from senior vice president, public affairs to director of public affairs; Adrian Siemers, from Senior Vice President of Sales to Director of Sales; Mary Suing from Senior Vice President, Diversity & Inclusion, to Chief Diversity Officer; and Heather Middleton, from Vice President, PR to Senior Vice President, Marketing.
Sodexo live!
Sodexo live! hired an industry veteran Colleen Brzozowski as the new Director of Room Sales. Bringing over 25 years of hospitality industry experience to this newly created position, Brzozowski is responsible for managing event bookings for the hospitality company's extensive portfolio of venues. She most recently served as Director of National Accounts at ACCESS Destination Services and previously held high performing sales positions at KSL Resorts, Krisam Group and the Grand Traverse Resort & Spa.
ASAE
ASAE named Debra Zabloudil vice president of learning. She will be responsible for building a learning team to develop and deliver content for some of ASAE's flagship events and new initiatives, working with the ASAE leadership team and volunteers to create a balance between in-person and digital learning for the ASAE market.
Zabloudil brings to his new role extensive experience in learning and instructional design, including that of leading education consultancy The Learning Studio for the past 17 years. During her years of serving clients in the nonprofit space, she has provided expert advice on education strategy, offered a catalog of leadership and management courses for nonprofits, and designed programs for clients in the whole world.
Prior to starting The Learning Studio, Zabloudil held several senior learning positions with the Association Forum, the Joint Commission, and the American College of Healthcare Executives.
Los Angeles Convention Center
the Los Angeles Convention Center (LACC) promoted Ben Zarhoud from vice president of finance to deputy general manager. Zarhoud joined the establishment in 2018 with a background in accounting and financial management. Prior to joining the downtown Los Angeles facility, he spent six years in senior management at AEG and AXS Group and six years at Deloitte & Touche.
Providence Warwick Convention and Visitors Bureau
the Providence Warwick Convention and Visitors Bureau (PWCVB) recently announced the appointment of a new board member and two staff promotions.
Chris Marshall, president of Marsella Development Corporation, has been appointed to the board of directors of PWCVB. He brings over 20 years of real estate investment and development experience and has long been active in the downtown community, serving on the boards of the Providence Foundation and the Providence Preservation Society for nearly two years. decades.
Plus, 30-year hospitality industry veteran Anissa Ladd was appointed Director of Sales after serving as Director of National Accounts since joining the PWCVB in 2018, while Jonathan Walker was promoted to Director of Sports Sales within the RI Sports Commission (RISC). He brings over eight years of experience in the Rhode Island hospitality and sports markets and has most recently served in a coordinator role since joining RISC in 2019.
MSM inc.
Live and digital experience agency MSM inc. promoted Gary Collins to the Vice President of Operational Excellence. In addition to his previous responsibilities as Director of Operations, Gary now oversees quality management as well as the agency's procurement and project management services.
Since beginning his career at MSM nearly 17 years ago in the warehouse, where he focused on shipping and receiving, including inventory control and barcode management, Collins has gained invaluable experience across multiple departments including procurement, production, project management and operations.
Owensboro Convention Center
Spectra, site management provider for the Owensboro Convention Center in Owensboro, Ky., recently made several staff promotions and welcomed new members to its team. They include:
· Josh Gan as the new Sales Manager, who brings over 20 years of sales experience—10 of them in a sales leadership role—to the team.
· JT Pedley, back at the facility as senior sales manager. He previously worked in the convention center sales department for four years before joining Townsquare Media.
· Kaitlyn Alvey, as social sales manager, in charge of working with the establishment's party and wedding activity. She recently obtained a Bachelor of Commerce from the University of Brescia.
· jerry jeffries, selected as the new director of operations. He comes to the convention center in Franklin, Tennessee, where he was facilities manager for a wedding venue and an amphitheater.
· lexi lundy, joining the team as an event coordinator. She graduated from Murray State University in Nonprofit Leadership Management, specializing in special event planning.
· Rena Hamilton, promoted to banquet manager. She started working at the convention center as a team leader with a non-profit organization and later as a part-time bartender.
Do you have People News to share? Please send ads and high resolution photos to lpsavas@tsnn.com
Don't miss any event news: Subscribe to our weekly e-newsletter HERE and engage with us on Twitter, Facebook, LinkedIn and instagram!