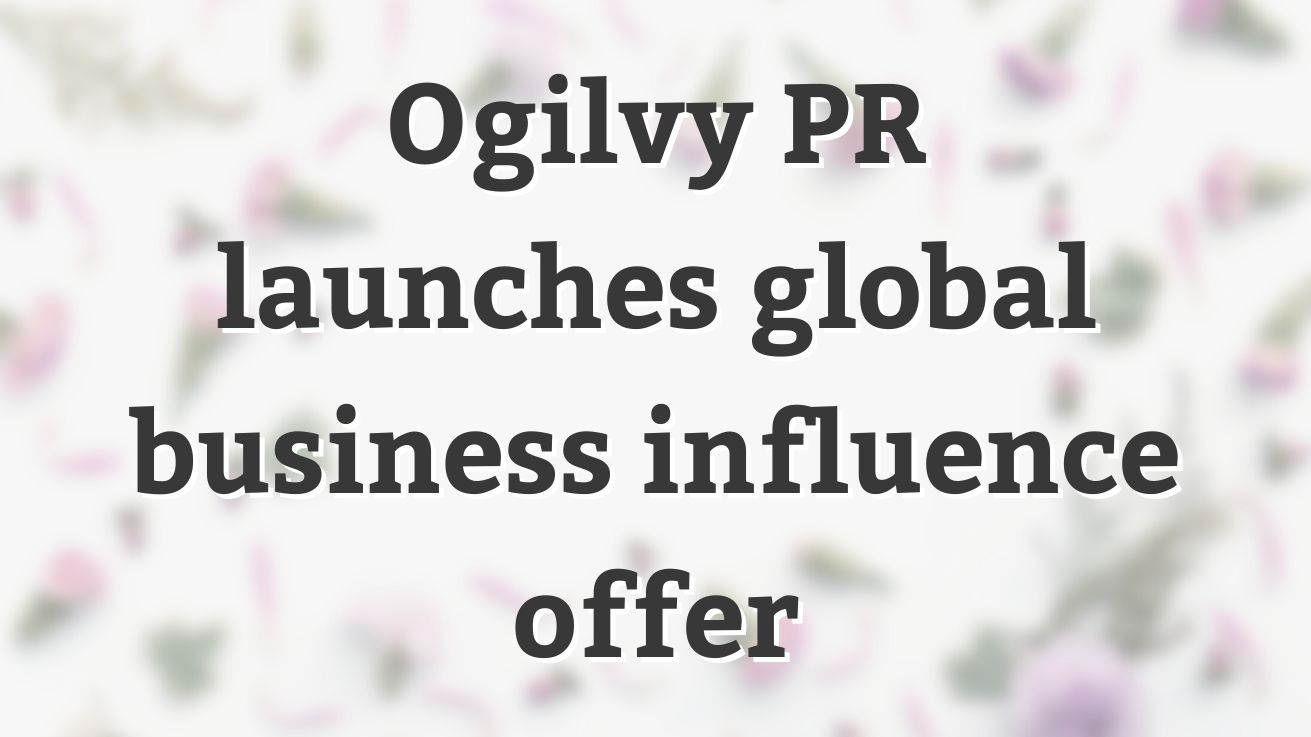 Ogilvy PR Launches Global Sales Influencer Offering
Ogilvy PR says it is already using the new offering with clients such as IBM, Samsung Business and Vodafone Business to build their business influencer campaigns globally.
"The use of influence in business is nothing new, but many companies only use a small part of its potential and focus on the conversion phase," says James Baldwin, director of the business influence at Ogilvy PR.
"Extending the impact of business influence across an end-to-end business landscape unlocks exponential value that businesses can't always access through other channels," Baldwin adds.
Business influencer marketing is expected to generate $11.7 billion in revenue by the end of 2022. This represents a shift in brand mindset. According to the agency, by bringing in credible people from the industry with a proven track record, companies can solve problems ranging from face value sales and reputation management to building fully integrated businesses and defense of employees.
While some of the biggest traditional B2B brands in the world use influencers, business influence is still in its infancy. Ogilvy adds that it has built a team of sales influencers who have worked with clients in the field of sales influence for years.
"Commercial influencer is the new frontier of influencer marketing. Like consumer audiences, genuine credibility has surpassed hard sells when it comes to increasing trust and B2B growth," says Titus.
"Companies and brands that get this right are poised to reap the benefits of an ever-growing creator economy. The future of business influence relies on real people making real impact. Master your conversation , or someone else will," Tutus adds.
According to Forbes, 90% of today's sales-focused B2B audiences no longer trust sales messaging, but 92% of B2B buyers agree they would engage if the professional was a thought leader known to the market. sector.
Authentic business influencer credibility has overtaken hard selling as the foundation for B2B growth, but help is still needed to unlock the potential: 74% of B2B marketers agree that influencer marketing improves relationships with brands, but only 19% have influencer programs in progress. .
"In the African context, influence in the B2B space has yet to be harnessed to its true potential. We are excited to bring this innovation from our global network and excited about its prospects for our PR&I clients," concludes Vikas Mehta, CEO of Ogilvy Africa.
For more information, visit www.ogilvy.co.za. You can also follow Ogilvy on Facebook or on Twitter.
Ogilvy RP Ogilvy Ogilvy PR Launches Global Sales Influencer Offering Commercial offer Public relations offer PR commercial offer Commercial influence B2B PR B2B