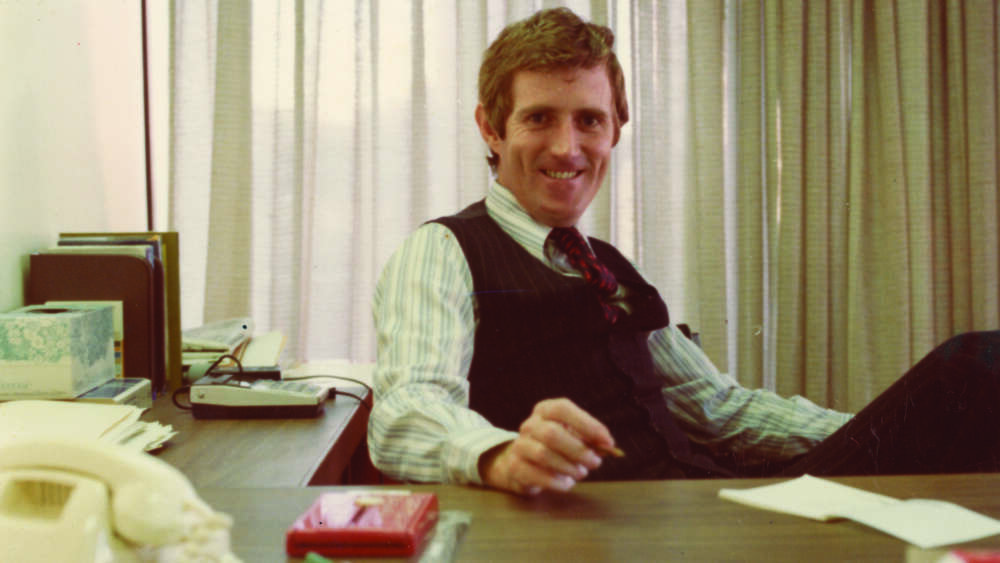 From the sale of goods to the sale of Jesus: the advertising man of God
It was when Sydney publicist Tom Glynn was at the top of his game, working for the prestigious agency J Walter Thompson, that he decided he wanted to move from selling products to selling a no one, Jesus Christ.
High school dropout and son of an (illegal) SP bookmaker began his advertising career as a messenger at the age of 15 – six years before he became a Christian.
He thrived in the tough competitive atmosphere and rose through the ranks to work as an account manager for top agencies in Singapore and London before returning to Sydney.
During his heyday, Glynn worked with dozens of blue chip companies and several brilliant Australians who rose to fame, including social critic Donald Horne, restaurant critic and arts chef Leo Schofield, social science researcher Hugh Mackay. , publisher Richard Walsh, novelist Bryce Courtney and artist Ken Done.
In fact, it was Mackay, changing his entire understanding of how advertising works, that triggered Glynn's career transition to "selling Jesus".
"I was brought up to think of advertising in military terms – we used words like strategy, objectives, execution, targets, etc.," writes Glynn in his autobiography, The advertising man of God.
"This seemingly aggressive approach has been described by Hugh as the 'injection' model of communication, where you think your message is rather than a potent drug and the medium is the syringe you use to inject your message into the brain. of your unsuspecting person. public. "
"It's not what the message does to the audience, it's what the audience does with the message." – Hugh Mackay
The only problem with the injection theory is that it doesn't work, he's been told, and people don't change their minds in response to every persuasive message that reaches their brain.
The power of advertising, according to Mackay, lies in the audience, not in the message. "It's not what the message does to the audience but what the audience does with the message that determines the outcome of the communication," Mackay said, in a memorable saying that Glynn found "mind-blowing."
This meant that effective communication began by entering the minds of the public, discovering their attitudes and predispositions, as people see the world through the filter of their beliefs and seek to reinforce those beliefs.
"At this moment [the 1970s] – and perhaps even today – the "injection model" of communication was alive and well in the Church, "writes Glynn.
"I remember a dedicated and well-meaning deacon saying that all we had to do was get people to read tracts and they would become Christians. If only it was that easy!
Armed with Mackay's ideas that effective communication must begin with a sympathetic understanding of the audience, Glynn was able to see how churches need to change their style of communication.
"The Church must enter into the point of view of the community and work from it, as if it were the Church's own," he writes.
"For example, the Church must understand 'generation of experience' (where 'being, doing, feeling and experiencing' trump 'saying' and 'authority').
Mackay's insistence that by far the most effective channel of communication was personal relationships held an important message for the Church, he believed.
"A lot of churches and groups think they need to go out and have a big publicity campaign, but the best way is person to person. But unfortunately we are not equipped to do it effectively, so it is a challenge, "he said. Eternity in an interview.
"Advertising is primarily used to confirm that you've purchased the right product or service. it's not very effective at converting people to the way you think.
Like most children of the 1940s and 1950s, Glynn attended Sunday School, Christian Endeavor and the Boys Brigade in Inner West Sydney, but did not dedicate his life to Christ until he was 21 years old.
It happened on a camping trip when he took three books with him: the Bible; Basic Christianity by John Stott; and a book of sermons by a very influential American liberal Baptist preacher in his day, Harry Emerson Fosdick.
Glynn writes: "I had time to reflect, after which I finally accepted Jesus, not because of my sins and as a path to heaven, but because of his life, his ministry, his death and resurrection, and as the One to follow. I was also impressed by the followers of Jesus, who had witnessed his resurrection and continued to claim that he was the Son of God. They kept the faith in the face of death. I was also impressed by Saint Paul with his dramatic and overwhelming conversion on the road to Damascus, and with his letters to small churches in difficulty in Asia Minor. "
"I finally accepted Jesus, not because of my sins and as a way to heaven, but because of his life, ministry, death and resurrection, and as the One to follow." – Tom Glynn
Glynn came back from the camping trip a changed person. After apologizing to his mother for a myriad of domestic sins and being baptized, he "threw away [him]in a new mission – to bring knowledge of advertising / marketing to the Church ".
So, at the age of 32 and with 16 years of experience in the advertising game behind him, Glynn courageously opened his own advertising agency – with a burning desire to help Christian ministries and charities survive. a period of high interest rates and declining donations using the principles and techniques of modern advertising.
With the opening of Tom Glynn Advertising (TGA) in 1974, he paved the way for a new business model that provided advertising consulting services for a monthly fee.
"At that time, the idea of ​​an outside organization dealing with fundraising for client advertising marketing was quite unique. They used to use us for a one-off job, where we either design a better head for them or do an annual report and then you wouldn't see them for a year, "he says. Eternity.
"What I created was a model that a lot of companies were using then, which was a consulting firm, but mine was based on a paid monthly fee and it was an innovation."
One of his most precious "raindrops from heaven" was the director of the Christian bank who agreed to lend him enough money to start the agency even though he only had two clients, the Anglican Home Mission Society (now Anglicare) and the League for the Bible.
Although it became known as a Christian agency, TGA flourished and in 1975 Glynn orchestrated a very successful but somewhat controversial television campaign for US giant Thomas Organs (whose Australian distributor was Open-Air Ministries). It starred the flamboyant American pianist Liberace, with the filming taking place in his Las Vegas home, with chandeliers.
Despite the backlash from a client, the Australian Council of Churches, the Liberace campaign put TGA on the map and paved the way for 14 years of success serving a who's who of Australian Christian organizations throughout. by filling the coffers with regular business customers. He sold TGA in 1989, but remained in the industry in various capacities for another two decades.
Now 80, Glynn says Eternity that by sitting down to write his autobiography, he had three goals in view. The first was to encourage Christian organizations to be more professional in their communications.
Second, he wanted to describe his struggle with depression, which went untreated for a long time when he was at the peak of his career.
And finally, he wanted to write about his experiences of surviving in an industry that was not sympathetic to the Christian message.
"I was looking for outward escapes – going on vacation, going to the Sydney healing service at the cathedral, growing up, praying." – Tom Glynn
In his candid descriptions of his struggle with depression, Glynn writes that he kept it a secret for over 20 years, hiding behind his extroverted "bushy tail" mask and feeling too embarrassed to talk about it.
It had to do with his struggle to cope with rejection – ironic since he was in a business where rejection was inevitable and frequent.
He sought theological answers, but continued to struggle with what he believed was a midlife crisis that made him dread going to the office on Monday morning.
"I was looking for outside escapes – going on vacation, going to the healing service in Sydney at the cathedral, growing up, praying," he says. Eternity.
"Too many Christians thought that all we had to do was pray and read the Bible and trust God and you will be healed. But when you have this serotonin that doesn't work very well, it doesn't matter.
After hitting a crisis where he felt suicidal during the Australia Day long weekend in 1985, Glynn found the right psychiatrist, who diagnosed him with a genetic condition and told him to prescribed antidepressant medication, which relieved symptoms.
Glynn comments, "As CS Lewis said, it is God's foghorn for us when we are in pain. And when we're in pain, it's a terrible time, but if you go through it, you look back and say, 'Well, I'll give thanks to God. It helped me in my understanding of spirituality and growth. So yes, terrible weather, terrible weather. Unless you've been clinically depressed, you have no idea.