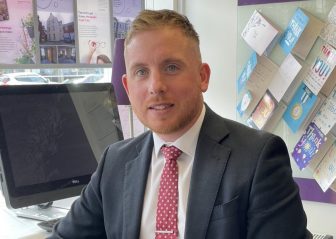 Comings and Goings – Eye of the Real Estate Industry
Morgan Wilson received a promotion at Spicerhaart
Spicerhaart Letting's new regional manager for West and Wales has been promoted internally after 11 years climbing the ladder.
Morgan Wilson joined the company as a negotiator in 2010 before becoming a Lease Manager, Senior Lease Manager and Branch Associate in Weston-Super-Mare.
His promotion to regional manager for haart and Darlows is the next big step in his career.
He said: "I have spent my entire career working in the sales and real estate industry, and I am ready to use my knowledge to help others develop and grow.
"This role is more than a nine-to-five job. I have always gone above and beyond customer expectations to make sure I am meeting their needs, and I make sure to do the same for my staff who deserve to be supported throughout their journey.
Spicerhaart Group Managing Director Antony Lark added: "Morgan is an incredibly loyal member of the Spicerhaart family and a reference person for the entire team. His promotion is a reflection of everything he has done so far.
Savills joins premier residential development sales team in London
Savills has expanded its residential development sales team in London with two new hires, both returning to Savills after previously working for the company.
Adam Simmonds joins as a director with ten years of experience in the real estate industry. Most recently, he was responsible for new home sales at Strutt and Parker. Becca Howard also joins the team after spending three years working for the developer of the Pocket Living store.
They both return to work at Savills after previously working in the firm in the Sloane Street and Winchester offices respectively. They will both now be based at Savills Global Headquarters at Margaret Street, London, W1.
Simmonds has a lot of experience in the new construction industry in central London. He previously worked on a number of high profile programs.
He said: "It's great to be back at Savills after a seven-year absence. I look forward to delivering the expertise and service clients have come to expect from Savills' super premium team and selling some of the best-in-class residential developments in London ".
Having worked on the client side for the past several years, Howard will support the sales and marketing function within the team.
She commented: "I look forward to supporting the sales and marketing of key London developments and working with the Savills teams across PCL".
Ed Lewis, London Head of Residential Development at Savills, added: "We anticipate a busy fall and winter, with international buyers returning now that travel restrictions are starting to lift. I have no doubt that the growing team will get their act together as we see pent-up demand unleash in central London's main market. "
B8 Real Estate expands rental team Merseyside
B8 Real Estate has expanded its rental team with the appointment of Alex Perratt as an expert.
Perratt, who will mainly cover the regions of Merseyside, Cheshire, North Wales and West Lancashire, comes from CBRE in Manchester where he was part of the industrial and logistics real estate team. He has eight years of real estate experience during which he worked.
He said: "This move will allow me to further develop my knowledge of the sector and the local market. "