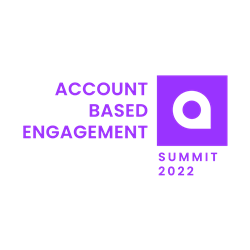 ChatFunnels to Host Industry's Largest Account-Based Virtual Engagement Summit
(Account-Based Engagement) is about the customer journey and customer experience. When done correctly, you align the business with revenue.


SILICON SLOPES, Utah (PRWEB)
August 06, 2022
ChatFunnels, the leading conversational marketing platform, today announced that it will host the annual FREE Account-Based Engagement (ABE) Summit on August 17, 2022.
The summit will be a one-day virtual event featuring over 30 of the industry's top sales and marketing leaders, where they will unveil the latest trends and growth strategies employed by some of the world's largest organizations.

ChatFunnels has hosted over 22,500 attendees and over 150 top B2B sales and marketing speakers. Much of the value of the event is attributed to the high level of speakers and value driven tracks.
Summit sessions are placed into three separate tracks that indicate their positioning along the sales funnel: ABE Optimization, ABE for Marketing, and ABE for Sales.
The following speakers are among those featured at the Summit:

ChatFunnels Co-Founder, Billy Bateman

Shelley Morrison, Vice President of Domo's Global Demand Center

Managing Director of Refine Labs, Sidney Waterfall

Revenue.io Marketing Director William Tyree

Jessica Ovalle Fisher, Sendoso Vice President for Demand Generation

Vidyard's vice president of marketing, Tyler Lessard

RedRoute Marketing Director, James Gilbert

Gated CEO Andy Mowat

Hannah Shain, Vice President of Marketing at SmartBug Media

Winning by Design's Revenue Leader, Kevin "KD" Dorsey
In addition to the presentations, the ABE Summit Awards will be announced at the event. These awards recognize outstanding industry leaders who drive their businesses forward with account-based engagement and are nominated and voted on by the crowd.
To register for free or to vote for the ABE Leaders Awards, go to http://www.abesummit.com

Send inquiries regarding summit sponsorships to pete.ketchum@chatfunnels.com
About ChatFunnels:

ChatFunnels is an account-based engagement orchestration platform designed to help your sales and marketing teams sell to your ideal customers. ChatFunnels lets you segment, identify, engage and convert web traffic with automated, template-based workflows. ChatFunnels is easily implemented in your marketing and sales teams to convert your website traffic into customers. ChatFunnels is used by big brands like Domo, ObservePoint, Pantheon, Archive360 & LVT.
Share the article on social networks or by e-mail: