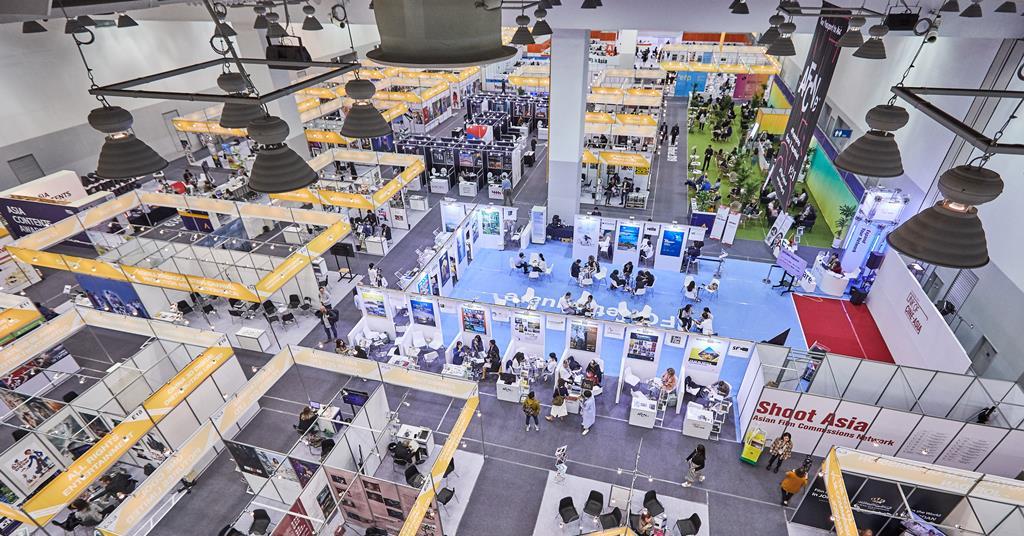 Back to business in Asia with the comeback of Busan ACFM | Features
In South Korea, the 17th Asian Contents & Film Market (ACFM) will take place from October 8-11 as Busan's first all-in-person market since the onset of the Covid-19 pandemic.
With Hong Kong Filmart and Tokyo-based marketplace Tiffcom continuing to operate solely online this year, Busan has become a focal point for anyone doing business in Asia. ACFM is also adapting its format as the lines between film and series blur, expanding its former E-IP market and relaunching it as Busan Story Market (BSM).
"People based in Asia are excited to go to Busan. It's been a long time since we've seen each other in person," says Yunjeong Kim, director of Korean sales company Finecut. "Even in Cannes this year, there were a lot of Europeans, but apart from a few Taiwanese, there was maybe one company per country.
"Busan is a good place to discover new directors," Kim continues. "We look forward to seeing more programmers from European film festivals than last year, and hope they discover new filmmakers. As for buyers, it will be good to show them new and upcoming films, as well as films that have shown elsewhere and/or are about to open in theaters, in person after so long.
As of September 19, the closing date for online marketplace entries, organizers reported 1,960 badge entries from 49 countries and 1,058 companies. Of these, 1,582 badges are for physical attendees and 378 are online only. The total is around 300 more total registrations than the same period in 2019, the last event before the pandemic.
The ACFM will have a record number of nine national stands or umbrellas from China, Japan, Taiwan, Thailand, Philippines, Mongolia, United Kingdom, European Film Promotion (EFP)/Unifrance and South Korea. The Hong Kong Trade Development Council is also opening a booth in Busan for the first time.
"The Busan International Film Festival and the Asian Contents and Film Market are key annual events in East Asia for EFP," said Sonja Heinen, Managing Director of EFP. "The festival and the market have always given a special place to European films. Reconnecting in person with the Asian industry is also long overdue for many trade agents. »
EFP's joint stand with Unifrance will accommodate 28 sales agents on site and 11 others online. "The booth is a well-established business and networking platform for European sellers and Asian buyers in Busan."
ACFM Chief Executive Daniel Kim notes that physical attendance from China has been difficult due to current Covid-19 restrictions. Chinese companies such as iQiyi and Huayi Brothers Media Corporation are only participating online, although Rediance and China Film Co-Production Corporation are onsite.
Other companies in the field include the usual group of Korean companies, such as CJ, Lotte, Contents Panda and Finecut; the Japanese Shochiku, Toho, Toei and Nikkatsu; Hong Kong's Edko Films and Taiwan's Moviecloud; Sahamongkolfilm International and Purin Pictures of Thailand; and mm2 Entertainment and Clover Films of Singapore.
European participants include TrustNordisk of Denmark; Splendid Film from Germany; mk2 Films, Kinology, Pyramide International and Reel Suspects from France; and Britain's Terracotta Distribution and Protagonist Pictures. US participation will include A24 and Annapurna Pictures.
"As one of the largest distributors of Asian content in Germany and the Benelux, Busan has always been an important market for us," says Marko Möllers, Head of Acquisitions at Splendid Film. "With AFM looking to be very busy in November, ACFM always gives us time to meet all of our Asian friends and partners beforehand. This is our first trip to Asia since the pandemic and with the [online only] Hong Kong Filmart at the moment, it's even more important to go to ACFM this year.
Mollers is also looking forward to seeing new footage of titles he's pre-purchased over the past few years. "Of course we are looking for the next Train to Busan or the next big action title, but we want to try more different things in the future. With the buzz about Korean content following the success of Parasite and squid gamethe western world is more open to watching Asian content," he says, adding that Splendid is launching a fast AVoD channel through Freevee for Asian cinema, due to the growing popularity of Asian content and the rise of OTT platforms. .
In the zone
Launching this year at the ACFM is the festival area, where five other Korean festivals – including the Bucheon International Fantastic Film Festival (BIFAN) and the DMZ International Documentary Film Festival (DMZ Docs) – can promote their programs and industry projects and organize meetings. .
In partnership with Taiwan Creative Content Agency (TAICCA) and Japan Visual Industry Promotion Organization (VIPO), BSM includes any intellectual property such as books, webtoons (online comics), web novels, games and stories. Instead of picking a range and facilitating meetings as with the E-IP marketplace, ACFM will now let content providers do business directly through their sales kiosks.
"The supply and demand for original IP addresses is so great that we decided to simply provide space for them to meet," explains Daniel Kim. "Film sellers and buyers are doing business without our involvement, and so are content providers at BSM now."
The market has already attracted streamers such as Disney+, Netflix, Watcha and Apple TV+ to meet Korean publishers such as Kyobo Book Center, Minumsa and Munhakdongne and webtoon and web novel companies such as Daewon CI, Lico, Toomics , Munpia and Storywiz. Also present are film and television production and post-production companies such as Barunson E&A, CJ ENM, Dexter Studios, Megabox Plus M, Studio Dragon, Studio LuluLala and MBC, as well as Hollywood talent management companies such as UTA , WME and CAA.
Additional services will include legal consultations and seminars from the Korea Entertainment Law Society. "For example, if you're dealing with remake rights, you need to think about how to distribute the rights to future technology that hasn't been created yet – like streaming was in the past – in different countries. ", explains Kim. "A lot of content creation businesses are small and can be scaled, so we provide this service to help you out."
Any person participating in the market can take advantage of the service, although the rights holders have priority within the time limits. The market will also ensure the translation of these consultations.
After a pandemic pause, support programs in Busan have been revived and consolidated under the ACFM umbrella. This includes the Asian Cinema Fund (ACF), which this year selected 13 films out of 521 submissions. Among these, three projects supported by the ACF Script Development Fund for Independent Feature Films will also participate in the Asian Project Market (APM):
Iranian director Raha Amirfazli In the land of brothersby Malaysian director Putri Purnama Sugua The life that I stole and Rohin Raveendran Nair smart city from India.
With four new awards this year, APM has also selected 26 other titles including soldier of love by Kazakh director Farkhat Sharipov, whose Schema won the Generation 14plus grand prize at this year's Berlinale, and My Kabulwala, which will be co-directed by the Indian Balaka Ghosh and the Afghan Sahraa Karimi. His first feature film Hava, Maryam, Ayesha created in Venice in 2019.
ACFM also hosts Platform Busan for emerging independent filmmakers based in Asia. The program includes interviews with filmmakers with Rithy Panh and Wang Bing, case studies on the distribution of European films in Asia, information seminars and networking opportunities.