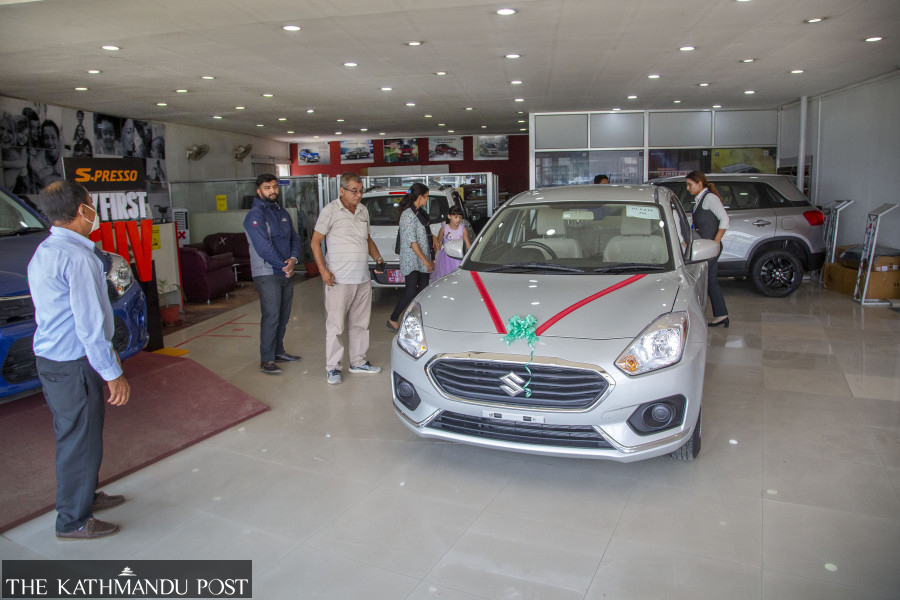 Auto sales show strong growth as festival season approaches
Auto sales, which have remained resilient despite the pandemic, have shown strong growth as the festival season approaches, with insiders optimistic that it will return to pre-Covid-19 levels by the next year.
Despite an increase in prices for two-wheelers following higher taxes, the sector saw sales growth of 50% compared to the same period last year, traders said.
Four-wheeled vehicle dealers are facing a shortage of inventory even as demand has swelled due to a shortage of semiconductor chips. The scarcity of semiconductors has sent shockwaves through the global economy, reducing the supply of everything from cars to headphones.
The chip shortage has exposed the modern world's reliance on these tiny components, the basic building blocks of computers that enable electronic devices to process data, according to reports.
As factories reopened, electronics producers continued to place orders, creating a growing backlog for chips, which may be only a fraction of a millimeter long.
Krishna Prasad Dulal, president of the Nepal Automobile Dealers Association, said demand has increased but supply is not sufficient. "The demand for vehicles will increase further during the festival. "
Due to the shortage of four-wheeled vehicles and the tax exemption for electric vehicles, potential buyers are drawn to battery-powered cars, Dulal said.
Global semiconductor chip producers face severe supply chain bottlenecks created by Covid-19 amid demand. According to international media, the global chip shortage will become less severe in the second half of 2022.
Car dealers face a shortage of four-wheeled vehicles ahead of the festival when demand has increased. Vendors said they accept reservations and deliver vehicles as inventory becomes available.
Prajwal Maharjan, marketing director at Pooja International, the authorized distributor of Volkswagen four-wheeled vehicles in Nepal, said demand for four-wheeled vehicles was rebounding; but due to insufficient supply and shortage of chips, they had problems delivering the vehicles on time.
"The rise in prices caused by the rise in metal prices and the shortage of semiconductor chips has not affected the zeal of buyers," Maharjan said. "Buyers of four-wheeled vehicles don't care about prices and the higher costs don't have much of an impact on sales," he said.
Car dealers have said prices for four-wheelers have risen by 10% and two-wheelers by 10-20% since before the pandemic.
Observing the current trends, Maharjan said that 40% of customers prefer sports utility vehicles (SUVs) because of their off-road characteristics. Some customers are also looking for entry-level sedans, but the sedan market is slow.
Two-wheeler dealers are feeling the impact of higher taxes on their sales.
"We can feel the sales tax hike one way or another," said Subhash Acharya, vice president of the association. "Although prices have increased and there is a shortage of four-wheeled vehicles, the demand for cars has increased in the market and people are buying them."
He added: "As people tend to buy goods after Sorha Sarad – the season when rituals are held to honor her ancestors – the demand is expected to increase further."
Nijen Lal Shrestha, director of business development at Syakar Trading, the authorized distributor of Honda bikes and scooters in Nepal, said demand for two-wheelers has been steadily increasing in the market, especially after the pandemic.
"The demand for two-wheelers is still high and it has not decreased," he said.
Prices for bicycles in most ranges have increased due to higher taxes and rising metal prices in India, car dealers have said. The rise in prices has had an impact on consumers who buy vehicles out of necessity rather than luxury, even then its impact has not been seen in the market as people buy them out of duress.
"The demand for Honda scooters increased so much after the first foreclosure last year that the company faced a supply problem due to the production slowdown in India," Shrestha said. "Mid-range bikes and scooters like Dio and Honda Shine are available in the market, but if customers are looking for higher-end bikes like the XR, they have to wait and the reservation is open. "
Nepal's largest auto show, the NADA Auto Show, has been postponed for two years due to the impact of Covid-19. The organizer plans to do so in mid-February next year by targeting New Year's sales.
Acharya said auto shows have been helpful in influencing consumer buying behavior and increasing sales.
Motorcycle dealers say the auto show hasn't encouraged customers to buy bikes and scooters.
Nepalese New Year and Dashain and Tihar are the main seasons when auto sales skyrocket 60-65%, mainly due to attractive programs and discounts offered by dealers.
The government has increased excise taxes and road construction costs on two-wheelers as part of the revised budget for fiscal year 2021-2022. Prices have increased from Rs15,000 to Rs50,000 depending on engine displacement.
Despite a slowdown in economic activity, sales of two-wheelers have grown significantly compared to four-wheelers after the lockdown was lifted last year, as people switched to private transport for fear of contracting Covid-19 in using public vehicles.
Nepal imported transport vehicles and parts worth Rs 10.14 billion in the first month of the current fiscal year 2021-2022, a sharp increase of 123.8% year on year on the other. In the first month of the previous fiscal year, vehicle imports were valued at 4.53 billion rupees, according to import data from the Trade and Export Promotion Center.
The country imported vehicles worth 97.37 billion rupees in the whole of the last fiscal year 2020-21.